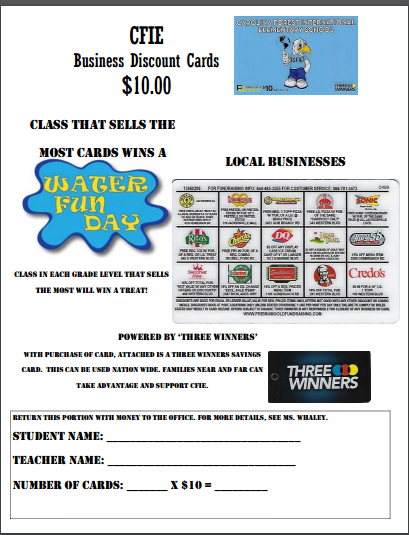 Resources for Rising Kindergarten Parents
Check out our Principal reading Bats in the Library, written and illustrated by Brian Lies
https://onslow.rev.vbrick.com/#/videos/939ef56b-a433-43ca-8921-2a77583b3579
Check out our AP Mrs. Hill reading Miss Malarkey Leaves No Reader Behind by Kevin O'Malley, Illustrated by Judy Finchler.
https://onslow.rev.vbrick.com/#/videos/0b467ec7-293d-4dd2-8770-126136df52c1
January 2, 2107 we kicked off our CFIE Leaves No Reader Behind reading incentive!
Please read the information to ensure your child does not miss out on this awesome opportunity!
Starting on January 2, 2017 the faculty of CFIE will be sponsoring a reading contest. This contest is called "CFIE Leaves No Reader Behind." The premise of the contest is that students will read 1000 extra pages between January 2 and April 7. Students who have read the 1000 extra pages and turned in the proper documentation will be invited to a late night celebration.
Some things to remember:
Reading logs must be initialed by the parents to be considered proper documentation.
This reading has to be extra reading, not the regular reading homework assignments.
We trust the parents to only initial the paper if their child really read the pages. Please understand that if parents are not being truthful about the child's reading they are hurting the child and we will have to discontinue this program if we discover that dishonesty is happening with the reading logs.
Reading logs need to be checked every 100 pages. The office staff will check the log after each 100-page interval. So after the student reads 100 pages he or she turns in the form to the office. They will check it off in the office and return it to the child's teacher. Then the child will turn in the same form after 200 pages are read to be checked off and returned. This will continue up until they have reached 1000 pages.
At the celebrations the students will be able to duct tape Mrs. Ervin and Mrs. Hill to the wall.
Students will also be allowed to wrap toilet paper around faculty members and throw pies at teachers, plus much more!
The celebration will be held on April 28th.
Questions can be emailed to tammy.clark@onslow.k12.nc.us